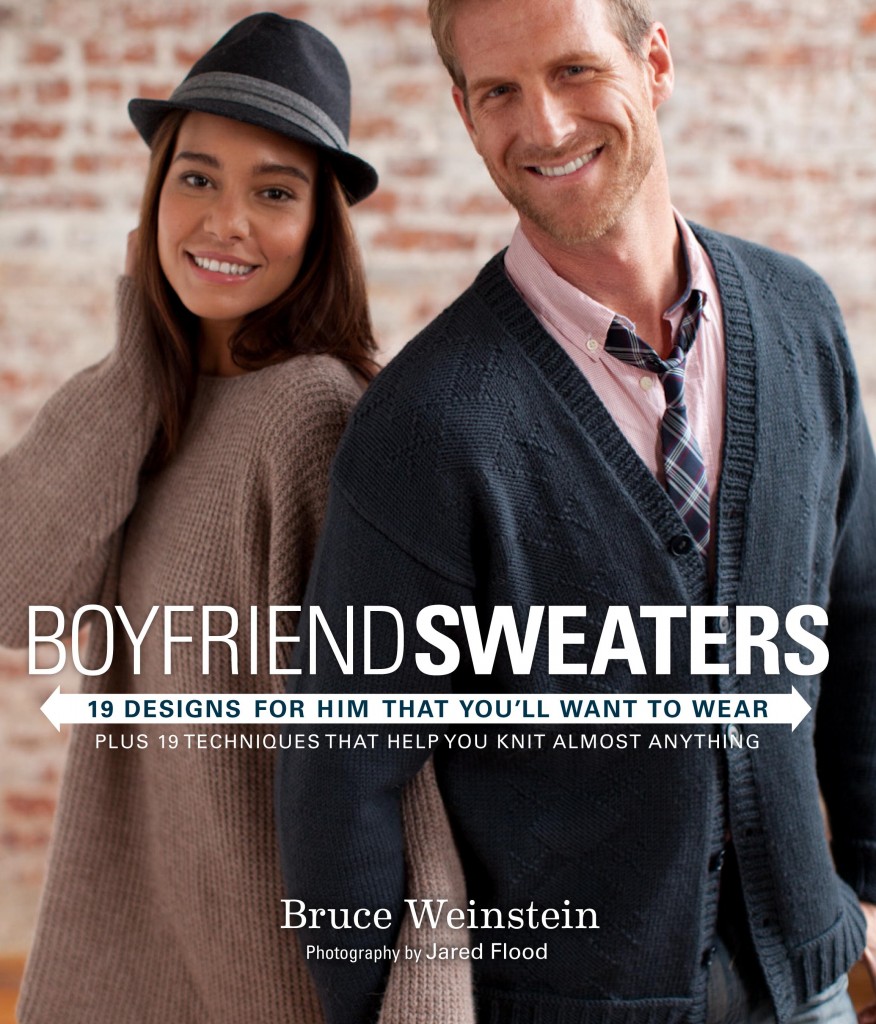 More often than not, the most special gifts we receive are the ones that are handmade. As advocates of all things crafty, we immediately fell in love with the concept and execution of Boyfriend Sweaters: 19 Designs for Him That You'll Want to Wear by Bruce Weinstein. The book's premise is very clever: a collection of classic knits that can easily be adapted for men and women.
Weinstein's sweaters featured in the book are not just classics. They are also modern and subtle, and the book is extremely approachable (take it from beginner knitters like us!)
Also an accomplished cookbook author, Weinstein recently spoke with us about this new book. Here's the interview:
Our Crafty Home: We're not really knitters, but Brent and I loved your book, Boyfriend Sweaters. How did you come up with the idea?
Bruce Weinstein: It all started when I was traveling around talking about my first book knits men want. Women everywhere were telling me that they were making those men's designs for themselves.  It's not a new story. Women have been wearing men's fashions forever. And every mall has a handful of stores that feature boyfriend sweaters – that is sweaters for women based on men's cuts, colors, and designs – from Gap to Lands End. So I thought it would be really cool to create a collection that both men and women could wear and knit. Everything is slightly oversized and appeals to both sexes.
OCH: Being two guys it makes sense for us to borrow sweaters from each other, but what is it about women and men's sweaters?
BW: When anyone wears someone else's sweater – be they male or female – there's always more than fashion at stake. Someone else's sweater comes with a whiff of perfume or cologne, memories of time spent with that person wearing the sweater – and if they give it to you right off their back, it's often still warm. There's a huge sense of comfort and bonding that goes along with boyfriend sweaters.
OCH: Brent learned a little about knitting from his grandmother, but he isn't a pro. What advice would you give to the knitting beginner?
BW:What I tell all my students is to keep looking forward. Don't pay attention to all the mistakes you are making or think you are making. Most of the problems at the start are tension issues. That is, not all stitches look the same. But that's OK. Over a very short time period that will change as you get a rhythm in your hands. The biggest mistake a new knitter can make is to over examine every stitch they make and strive for perfection right up front. Know that the first piece of knitting you try will never be worn, it's a canvas that will show your improvement – it will not be perfect from beginning but it will end very nicely and you'll probably keep it forever.
OCH: What is the "sweater curse"?
BW: Some people believe that if you knit a boyfriend a sweater, he'll leave you. I say you should knit a new boyfriend a sweater by the third date. If he's not going to stick around because you made him a sweater, better you should know he's that kind of guy right up front and be rid of him. Plus you get to keep the sweater and wear it. Is it a fear of commitment? You spent so much time and money or yarn and knitting that it scares him too much? Is there a scientific explanation – men sweat a lot in heave sweaters and their pheromones attract other women and off they go? Doesn't matter. Not all men will leave you if you knit a sweater and it's better to find out what kind of man you're dating right up front.
OCH: In your opinion, what makes a sweater great?
BW: What makes a perfect sweater varies from person to person. It can be the color, style, cut, or memories that go along with it. I think that if a sweater is one that you want to wear over and over and never get tired of, then it's a perfect sweater. For me, that is all about comfort and warmth. I like very soft yarns and I also like heavy sweaters. I find that the more complicated the design (overly cabled or ornately garnished in some way) the less I reach for it. I have a pile of gray sweaters that are so simple and comforting and fit me to a tee (since I made them myself to my size and length) and those are my perfect sweaters.
OCH: Finally, please tell us if you borrow any of your partner's sweaters. Which one is your favorite? 
BW: My partner is 5'10" and I am 6'4″ so I can't wear anything from his side of the closet. And his shelves are filled with sweaters I've made for him that I would love to wear or have on my side of the closet but would never make us matching sweaters. So if he asks for something that I was going to make for myself before I start in on it, then he gets it. My favorite sweater on his shelves is an oversized brown alpaca cardigan done in a very subtle basket weave with a hit of colorwork across the chest and upper back.
Valentine's Day is only a couple of weeks away. Here's how you can get your copy of Boyfriend Sweaters!