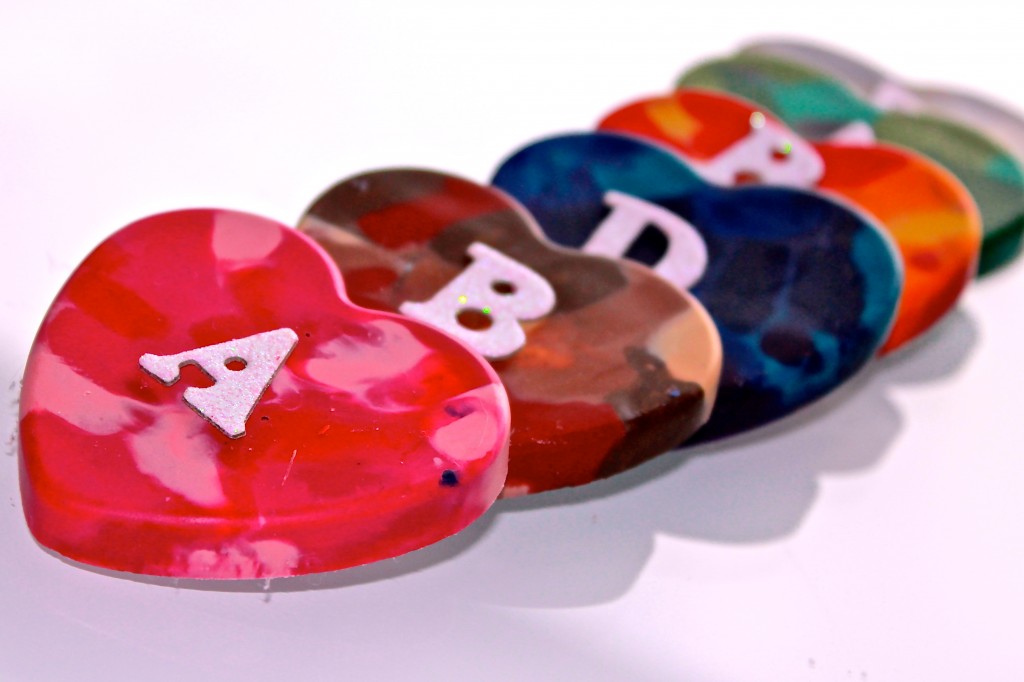 Over the holidays, Alberto spent most of the time on the floor coloring with our nieces and nephews. (He gets a little competitive, and I had to praise him often for coloring inside the lines…) So when it came to Valentine's Day, Alberto immediately thought about coloring with the kids. We used the leftover crayons that we had after the holidays, and melted them down to create cute little heart gifts for the kids. Then Alberto had the great idea to personalize them using glitter letters. This was such an easy project, and they make great little V-day gifts. You can even include the kids!
Here's what we used to make the heart crayons:
Crayons
Heart shaped muffin tray
Glitter letters – self adhesive
This is what we needed to put it together:
Olive Oil
Microwave
Freezer
Let's make some crayons!
Organize the colors that you want to put together. We tried to keep the colors in the same family together, but you can mix it up however you want.
Remove the paper from the crayons.
Break the crayons into the muffin tray.
Pop the muffin tray into the microwave for about 6 minutes. (If your muffin tray is metal, you'll need to put it in the oven at about 250-degrees.)
Remove the tray from the microwave, and put it in the freezer for about 20 minutes.
Take them out of the freezer, and pop them out of the tray.
Stick the letters on top.
They turned out so cute that I have a hard time picking which one I like the best. This is a great way to use up those old or broken crayons to give them a new life!