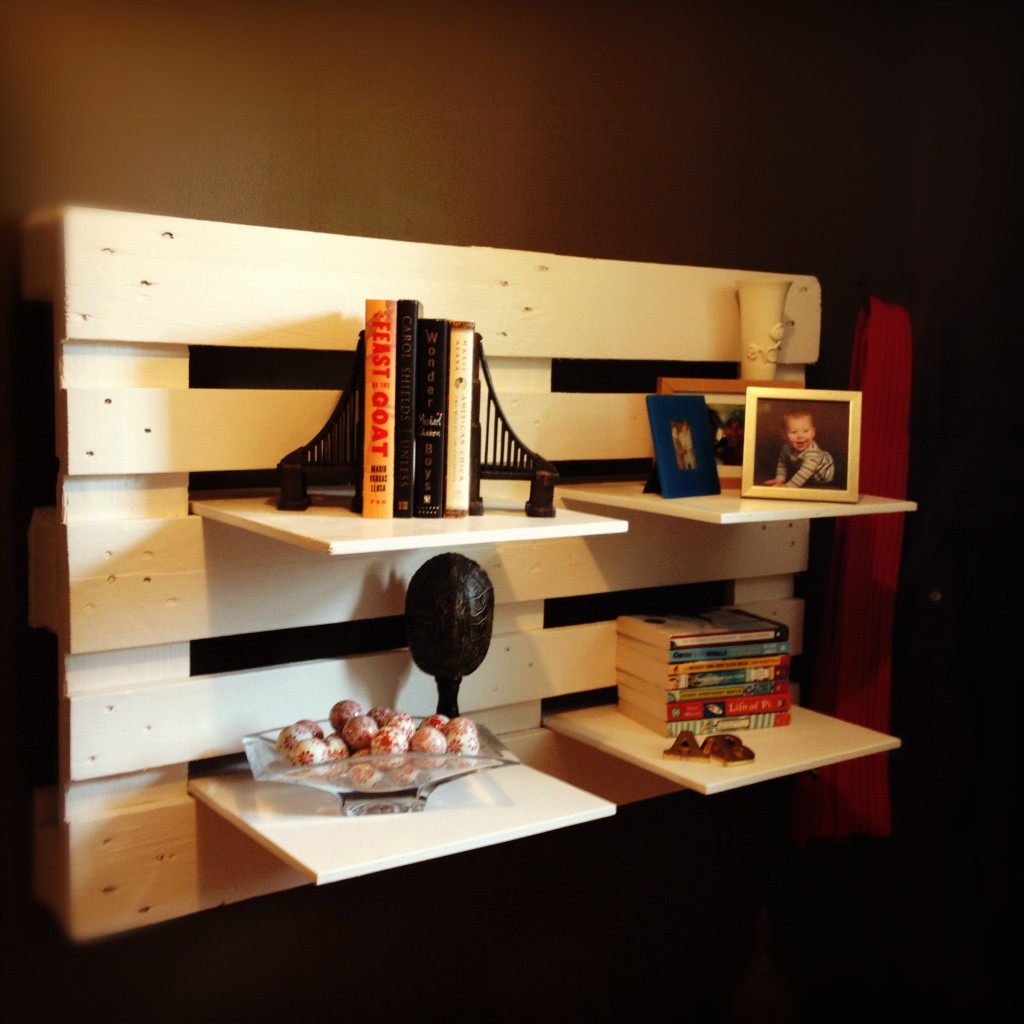 The summer is officially over and since our move from New Jersey a few months ago,  we find ourselves still working on our new apartment in the DC area. We've settled in for the most part, but I never realized how much stuff we have accumulated over the years…books, clothes, appliances, furniture, and an incredible amount of picture frames. Moving from a house to an apartment, storage has become a huge issue. Decorating our new smaller space is a challenge and trying to find an affordable organizing unit that we like can be quite a task.
Looking through many of our favorite craft and DIY blogs, I saw great ideas using leftover wooden crates. Since we seem to collect a lot of books (and I mean stacks and stacks of books), why not make a book shelf to hang on the wall? The project looked easy, so it seemed like the perfect project for this weekend. Alberto wasn't completely sold on the crate idea because we are starting to go for more simple and clean lines in our furnishings. The crate was a little on the rustic side, but I convinced him that I could make it look very modern by making the shelves look like they're floating. (Famous last words. Never kid a kidder…)
Here's what we used to make the shelves:
A discarded wooden crate (stores will usually give them away)
2 pieces of 2′ x 2′ 1/4″ plywood
White spray paint
This is what we needed to put it together:
Rotary saw
Screwdriver and screws
Let's create a Wooden Crate Shelf!
We decided to create the floating look by attaching four shelves to the back of the crate. By doing this the shelves will stick out without "support" giving the illusion that they're floating. The brace at the back plus the crossbar on the front of the crate, underneath each shelf, adds plenty of support for the books. I started by cutting the plywood into four equal pieces that measure 9″ by 12″.
Not complicated, so where's the catch?
Next I insert one of the narrower ends of the plywood through the front of the crate (above a front cross-brace) so that the back of the plywood lines up with a similar cross-brace in the back. The plywood now has two braces underneath it: one in the front of the crate and one in the back. Screw three screws down through the plywood into the back cross-brace. This will secure the shelves into place. I repeated this step three more times with the other pieces of plywood: two shelves on top and two on bottom. Nothing ever goes this easy …
If I haven't had any problems, why am I so nervous?!
Now I just need to paint. I spread out the paint drop cloth, position the shelves standing vertical in the middle and begin spray painting everything.  It's a beautiful day, and that slight breeze in the air is going to speed along the whole process. I like it when things work out.
Crazy simple …
Well, when there's paint drying, crafty guys are drinking crafty cocktails, right? Unfortunately Alberto hasn't unpacked his mixology equipment yet. Instead we just decide to have a Blue Moon with an orange slice. Nothing better than a cold beer!
After a couple of sips, I tell Alberto that we'll be able to hang these shelves in about an hour when all of a sudden, we hear a crash! Apparently that cooling gentle breeze that was helping along my paint drying was also very good at blowing over my shelves. The crate fell forward onto the shelves and popped one of the bottom ones up and out. After a cringe and a few choice words, we went over to assess the damage. Actually it wasn't as bad as it looked. I could still salvage the shelf, and cover any damage with paint. (Paint is a wonder!) After repairing the shelf, I carefully propped the shelves up with support against future gale force winds, and added another coat of paint.
After the paint was dry, we simply carried the crate shelves up to the apartment, and screwed it straight into the wall. Now we have unique storage for some of our books. I don't know if I achieved the look we wanted, but they are very pretty on the wall. And Alberto likes it, so something must have gone right! The blogs were right, it really is easy. (Well, assuming that you take proper precautions during a breezy afternoon …)