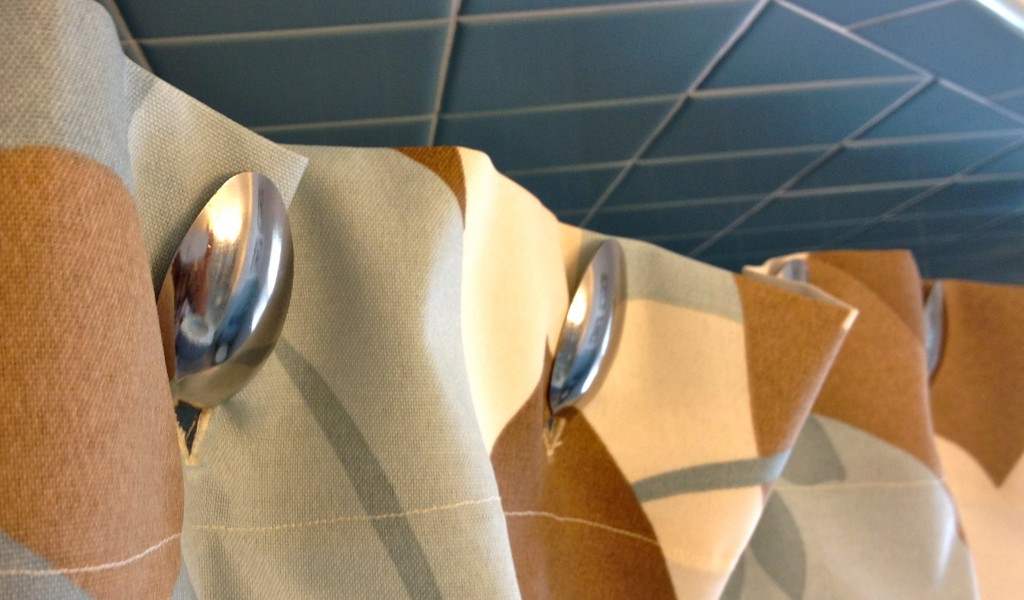 We had some down time this weekend to do some late Spring cleaning. Spring cleaning is always a little nostalgic for us because I remember all of the things that we've done together. This weekend was no exception. As we were going through the closets and old boxes, we found some old teaspoons that we used when we were living in our apartment in Manhattan. (I'm not sure how they traveled with us all of this time, but I guess we need to go through our boxes more carefully the next time that we move!)
I hated to throw the spoons away because it reminded me of our tiny studio apartment, and I LOVED that apartment. As I was about to toss them in the trash, Alberto said that we could make new shower curtain hangers out of them…well, why not! We could turn the spoons into retro-modern hangers, and I could keep my memories (albeit in the bathroom, but better than in the trash I guess…) So now we have our new project!
Here's what we used to make the shower curtain hangers:
This is what we needed to put it together:
2 pair of pliers (we used needle nose pliers, but that's not necessary)
Let's create shower curtain hangers!
The first thing that we needed to do was come up with the design. I had extravagant views on how we should bend the spoons. In fact my exact quote to Alberto was "I think you'll be surprised at how easily they bend".  Well, I was wrong…they were very tough to bend.
I started by bending the reservoir end of the spoon up to the stem.  The convex (outward curve) of the reservoir will be the outside face of the hangers. I placed the pliers at the bottom of the reservoir and bent it halfway. Then I used my hand to bend the spoon most of the way toward the reservoir. (Warning…After 12 spoons, your hand can become a little cramped.)
Next I started on the curve of the spoon stem. I placed one of the pliers about 3/4-inch from the reservoir and the other pair of pliers about 1/4- inch from the other. I bent the stem about 10 degrees. I continued up the stem about every 1/8-inch bending it about 10 degrees.  It created a natural curve.  Don't get too hung up on the curve so long as it fits over the rod, however compare your spoons to each other to make sure that they're close to the same shape.
We didn't do a cocktail break because this happened too quickly, but we'll definitely have one to celebrate. Maybe a gin martini is in order as we've finally had a Spring this year!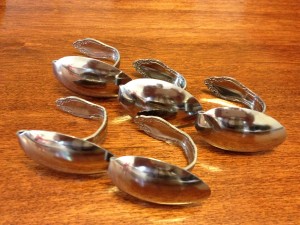 I used the spoons on the shower curtain, and they look great. What's really fun is that they don't look like spoons. They look like mid-century modern hangers. It just goes to show that you can do so much more with less!