Valentine's Day is around the corner and it's the perfect excuse to sate our wreath-making obsession! We haven't had a wreath since the holidays, so we were already itching to have another one for the house. Alberto has been wanting to do a project with some leftover sisal rope and this wreath seemed perfect to try it. All we did was wrap the wreath in rope, paint it pink, add a little sash, satin, and bling…and voila! An over-the-top wreath for Valentine's Day that is perfect to inspire a little love in the air! (and which will hopefully live on as a picture frame too!)
Here's what we used to make the wreath:
Styrofoam wreath
40-feet of sisal rope
Rose satin rope
Frame decor
Candy pink and watermelon-color spray paint (or whatever two shades of pink you prefer)
Glue E600 (for rhinestones)
Wooden letters, heart and rose rhinestones
This is what we needed to put it together:
 Glue gun
Toothpicks
Needle-nose pliers
Let's make a Valentine's Day Wreath!
Glue one end of the rope to the back of the wreath and start wrapping the rope around the wreath keeping it tight.
At every few wraps, dab a little glue to the rope to hold it in place (preferably in the back side of the wreath. The rope should be very tight in the center. Don't worry if there are small gaps around the outside.
Continue wrapping the rope around the wreath until you get back to the starting point. Cut the rope, and glue the ends together.
Paint the rope wreath and letters Candy pink, and paint the picture frame and heart in Watermelon. Use several coats, making sure to cover the front and the back well.
Cocktail Break!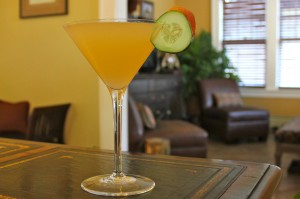 Alberto has been craving a gin martini lately, but because the weather has been so warm this winter he also wanted something a little more fruity. He decided to add a little fruit juice to the mix and made a Cucumber Pear Martini! It's delicious and very light. I think we need to have this recipe on hand for our next brunch party!
Pink Makes the Girls Wink!
Once the paint is dry, glue one end of the satin rope to the back of the wreath, and wrap it around every third rope loop. And just like the sisal, glue then ends together once the satin is completely around the wreath.
Next, start gluing the rhinestones onto the letters and the heart by placing the E600 glue on the back and positioning with a toothpick. Also glue some of rhinestones around the frame edge and randomly on the wreath. Use as many as you want!