Our friends at Fox Chapel recently sent us a copy of Tree Craft: 35 Rustic Wood Projects that Bring the Outdoors In, a terrific new book by Chris Lubkemann. The book is a fun collection of wood carving projects that are as approachable as they are easy to make.
A master whittler, Lubkeman shows readers how to apply his craft to home projects. With easy-to-follow instructions, he lets us into the basics of woodworking and carving. So, effectively in fact, that soon you'll want to turn your own backyard logs and branches into everyday home furnishings. The whole book is based on only a few different woodworking concepts, but the plethora of ideas that come from those concepts is really wonderful and creative.
For Tree Craft, Mr. Lubkemann turned to his own yard. He used a couple of trees that he had cut down to make most of the projects in the book. What we loved about the book is that he doesn't spend much for his materials and recycles materials that he already has…very crafty! He has found ways to turn his old tree trunks into useful items from coasters, planters, necklaces and checkerboard tables, to planter, photo frames and lamps…he really gives us a run for our money!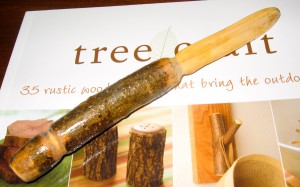 I was so inspired that after finishing the book, I picked up a stick from our own backyard and carved a letter opener. OK, so I used a box cutter because we didn't have a pocketknife, and Lubkemann has had much more practice at whittling, but . . . I think mine looks really great!
This week one of our lucky blog subscribers will get a free copy of the book. So go ahead and check your email today…you may be a winner!
But if you didn't get lucky this week, click here to get your own copy of Tree Craft: 35 Rustic Wood Projects That Bring the Outdoors In
.